Regular price
68,00 € EUR
Regular price
Sale price
68,00 € EUR
Unit price
per
Sale
Sold out
En savoir plus sur la personnalisation !
LIMITED EDITION to 50 pieces
🇬🇧 Handmade in Biarritz, France

For 3 – 6 cards

Size: 10 x 7.5cm
Full-grain, vegetable-tanned leather
The Eiffel Tower and Valet de Pique offer you a collaboration in the image of French elegance. A variation of our made in France leather goods in a brand new color: Navy Blue, an elegant classic.
With its Eiffel Tower logo, the Gustave Bleu Marine card holder bears the heritage of France's emblematic monument.
View full details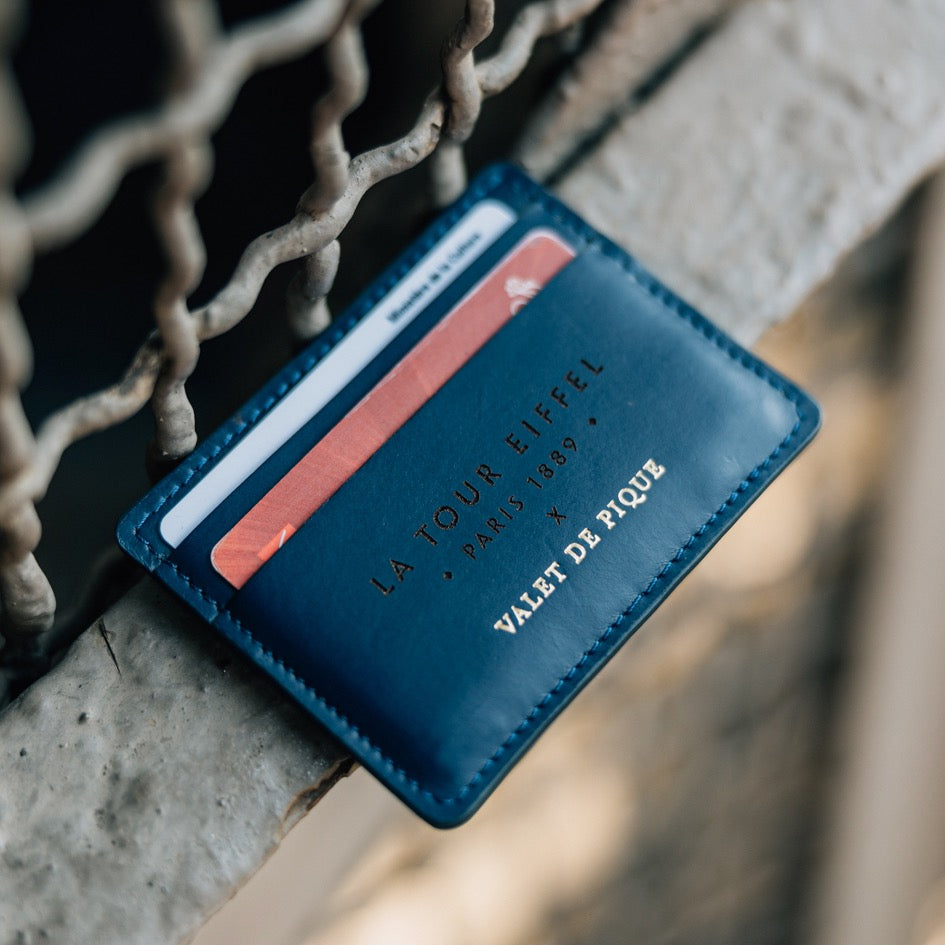 How does personalization work?
For Christmas or any other occasion, Valet de Pique offers you to personalize your piece of leather goods with laser engraving (Made to measure in our Atelier in Paris).
1 - Select the room
2 - Fill in the text chosen for the personalization (initials, surname, first name, quote, date, etc.) in the space provided
3 - Validate the order!!
LA TOUR EIFFEL S'ASSOCIE AU SAVOIR-FAIRE ARTISANAL FRANÇAIS
Représenter le savoir-faire et la technicité à la Française, tels sont les objectifs des deux protagonistes de cette histoire. La figure emblématique du pays s'associe avec Valet de Pique à travers une ligne de sac revisitant nos plus grands classiques dans une couleur phare, innocemment représentative de la France: Le bleu Marine.

Pourquoi ce bleu Marine ?Cette couleur évoque pour nous un sentiment de profondeur et d'inconnu, fidèle au mystérieux romantisme à la française. Couleur fétiche des précédents rois, ce ton est une partie évidente du vestiaire de chacun revenant inlassablement au cours des saisons. Ne vieillissant sous aucune tendance, sous aucun phénomène de mode, celle-ci est à l'image de nos produits : délicatement belle tout en étant transmissibles à travers les générations. Le design épuré de nos produits associé à la technicité et au savoir faire de nos ateliers, saura vous combler avec ces pièces qui deviendront symboliques dans le quotidien de votre garde robe.
Rendez votre porte-cartes unique en le personnalisant
L'écriture personnalisée pour rendre votre porte-cartes unique. Nous utilisons une gravure laser pour ajouter une citation, votre prénom, votre nom, votre adresse... Comme bon vous semble ! L'option de personnalisation est à 10€.
Fabriqué avec amour à Biarritz
Ce porte-cartes Gustave est fabriqué dans un atelier familial situé non loin de Biarritz. Il est tenu par deux frères d'une famille de maroquinier-sellier historique, un atelier au coeur du pays basque garant d'une qualité reconnue à travers le monde maintenant un savoir-faire Français.
Un atelier maîtrisant à la perfection les métiers de l'artisan maroquinier.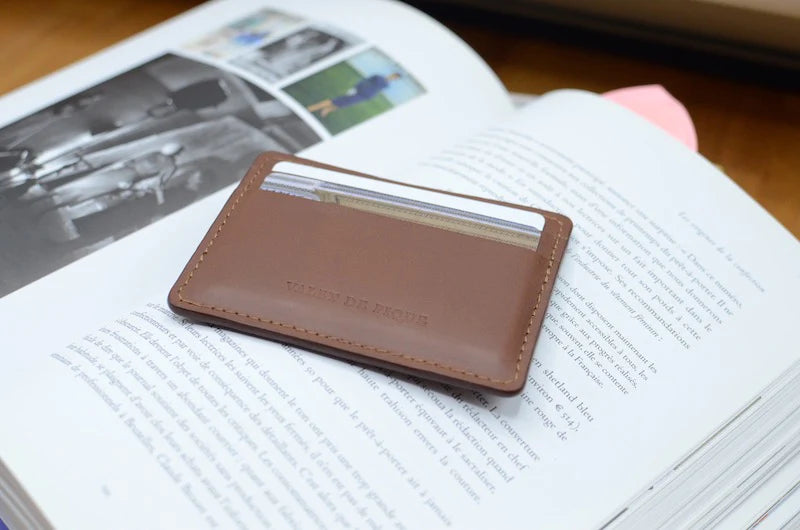 Un porte-carte Simple et rafiné
Le porte-cartes est compact, élégant et pratique. Les deux emplacements de devant ainsi que l'emplacement de derrière accueilleront jusqu'à 6 cartes. Parfait pour vous déplacer en tout légèreté.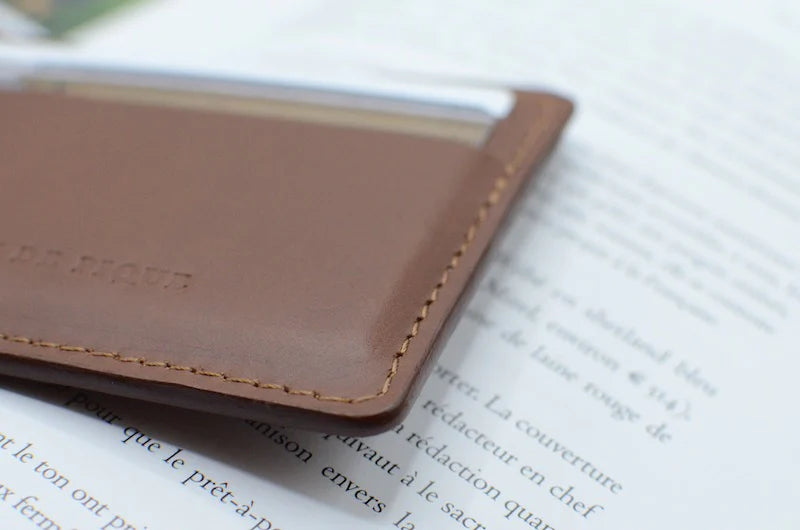 Cuir pleine fleur pour une jolie patine
En cuir pleine fleur tanné au végétal, le porte-cartes Gustave est fabriqué dans une matière noble, à l'allure naturelle. Il se patinera et foncera joliment avec le temps et deviendra légèrement plus brillant, il s'embellira avec le temps.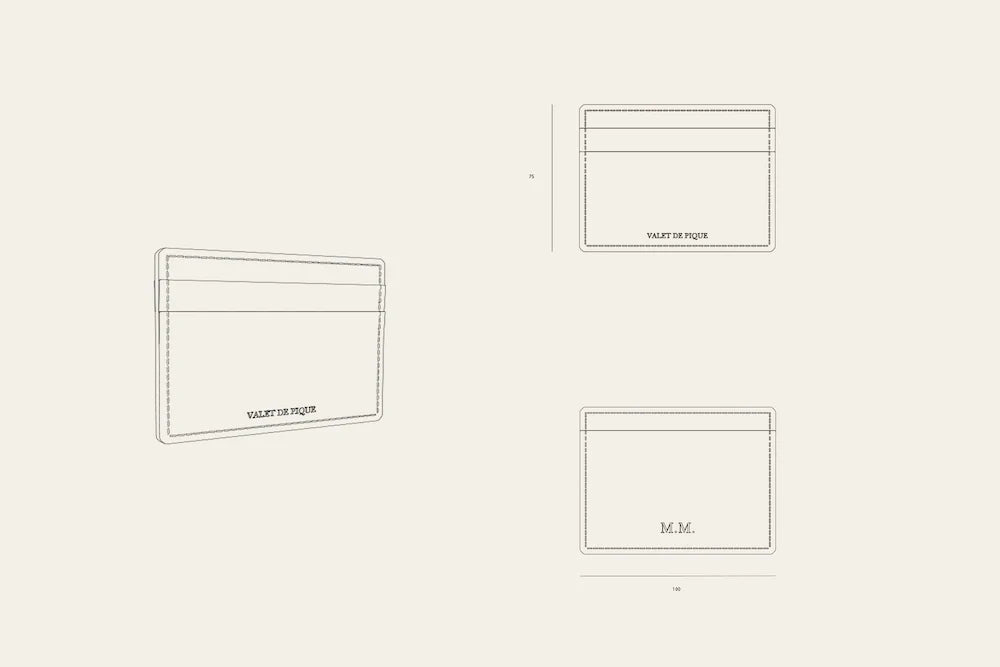 Dimensions
Pour 3 à 6 cartes

Dimension : 10 x 7,5 cm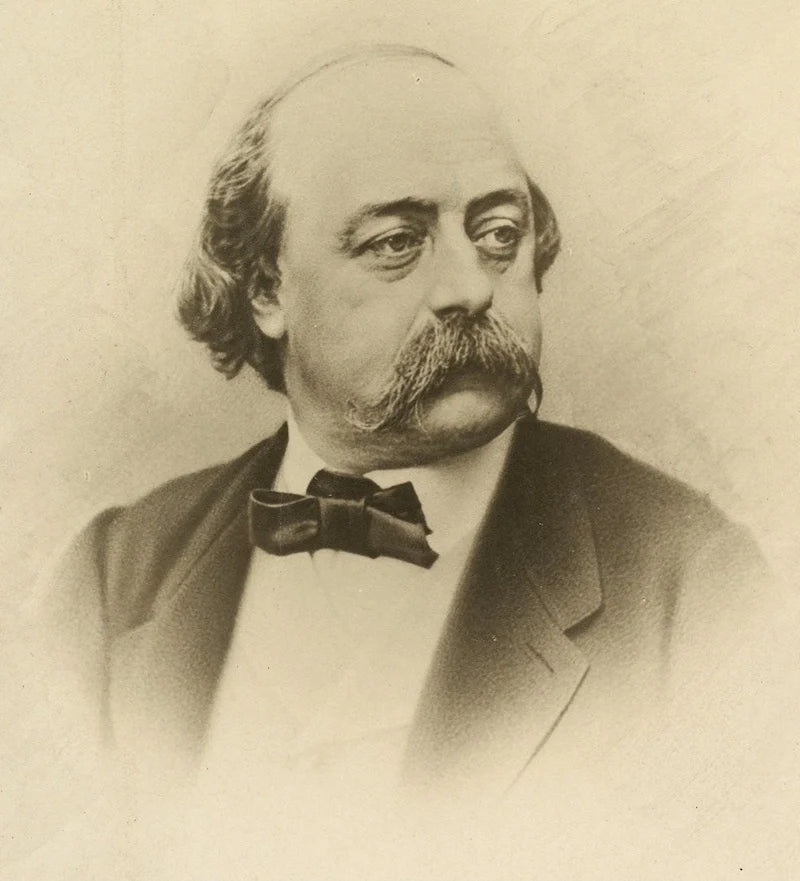 Pourquoi Gustave ?
En référence à Gustave Flaubert écrivain français né à Rouen le 12 décembre 1821 et mort à Croisset, lieu-dit de la commune de Canteleu, le 8 mai 1880. Il est l'un des plus grands romanciers français du xixe siècle.